The overnight delay at one of the locks on the Danube had unfortunately eaten into our day's excursion to Salzburg and at most we'd have just 3½ hours (versus the expected 5) to visit a city we'd been really looking forward to seeing.
As we pulled onto the autobahn en route to Salzburg, Austria, our guide informed us there was no speed limit for cars on the highway, but buses were limited to 100 kph, and trucks to 90 kph. That no-limit policy quickly became apparent as passengers on our bus let out an audible "woah" a couple of times, as assorted BMW's, Mercedes, and Audi's just flew past us.
In no time at all, we crossed the border from Germany back into Austria, and our guide told us that we were also less than 30 miles from the Czech Republic as well. We live in such vast spaces in North America, we sometimes forget that there are so many nations in close proximity to each other in Europe. In fact, almost all of Europe would fit into Canada!
Shortly after noon, we pulled into Salzburg and as were getting off the bus, we encountered a light drizzle.
Due to the lengthy bus ride, the first order of business was getting every one to a public restroom, and while waiting for everyone to get comfortable, I eased away from the crowd to check out my surroundings. Being an ad-man, albeit a retired one, I often find myself looking at advertising in other countries when Mary and I are fortunate enough to be out on an adventure. When I came upon this pillar-ad promoting Sound of Music-related tours, there could be no doubt as to where we were.
Restroom lineups, while understable, nevertheless took another bite out of our already reduced time in Salzburg, and our guide informed us that we were going to have to shorten our walking tour in order to keep our lunch commitments at St. Peter, said to be the oldest inn in Central Europe.
Due to our shortened visit, the first and only Sound of Music-related landmark we passed by was Mirabell Palace and Gardens.
It was here in the movie that Maria, played by Julie Andrews, and the Von Trapp children sing "Do, Re, Mi" while dancing, running and skipping around the gardens.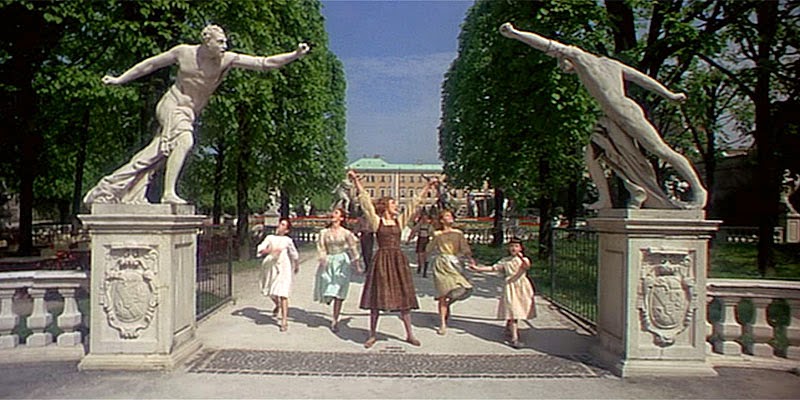 From Mirabell Palace, we headed toward and across the Salzach River which runs right through the middle of the city. The spectacular Hohsnsalzburg Fortress is in the background overlooking the city below. It is reachable via a 30 minute walk, or by lining up for the Funicular, but unfortunately we would not have enough time to do either on this day.
You can see that it was misty and we were getting sprinkled on as we walked around the city, (something us west-coasters are quite used to), but as we crossed the Makartsteg Footbridge, we had to stop and check out the love locks clasped to the bridge's fencing.
This is a century-old tradition which sees lovers inscribing a lock with their initials, affixing their lock to some portion of the fencing, and tossing the key into the river to symbolize their unbreakable and eternal love.
I wish I'd had a lock and key with me so I could add Mary's initials and mine to this fence.
As we continued on toward lunch, our guide led us through several arched passageways that took us deeper into the Old Town area of the city. In one of them we passed Staindl's, a shop that featured row after row of tantalizing marmalades in its picture window. We made it a point to stop here and pick out a few different flavours on our way back to the bus.
Our walking tour took us past Salzburg Cathderal, a 17th-century landmark containing the baptismal font where Wolfgang Amadeus Mozart was baptized.
It was here that we first saw brass memorial plates dedicated to Holocaust victims, something we would see in other cities in the days ahead. The plaques often list the reason the person was murdered, along with the dates of birth, deportation, and murder. We were told there were more than 350 of these memorial plaques scattered throughout the streets of Old Town.
Another Salzburg attraction that we passed (sadly) without time to visit was the birthplace of Mozart. The yellow house seen in the picture below, is where he was born on the January 27, 1756, and it is now home to a museum honoring his life and his music.
Our guide continued to lead us through the cobbled streets of Old Town and you can see by the damp ground, and empty tables, the weather was putting a bit of a damper on the outdoor cafe trade.
She did share one rather amusing story with us. In the mid-1800's a young man asked a prospective father-in-law for consent to marry his daughter. The father said that he could only give his approval if the young man owned a home which they would live in. The young man was very poor but he built what is claimed to be one of the smallest houses in the world (only 4 ½ feet wide), in order to meet the request of his future father-in-law.
Today it houses a jewelry shop where no more than two customers can squeeze inside the store at any one time.
We were now at St. Peter restaurant which is actually within the walls of St. Peter's Abbey, and as I mentioned earlier, it is claimed to be the oldest restaurant in Central Europe
It is mentioned in writings as far back as 803 AD, when the Emperor Charlemagne was served while dining with the Bishop of Salzburg. Christopher Columbus, and Wolfgang Amadeus Mozart are both said to have been served at the restaurant as well. I guess if it was good enough for them, it would be okay with us.
We entered the restaurant at the same time as a couple of other Viking tour groups. They had started their trip in Amsterdam, and were making their way to Budapest where our journey had begun the week before. As lunch was being served, the first of four classically trained singers in full Austrian folk dress entered the room and began to sing the theme song from the Sound of Music.
Over the course of our meal, we were regaled with many of the songs from the movie that are so well known, and of course the entire room joined in when the singers voiced the first few words of do-re-mi.
The food was very good, and it was also pretty cool to think about the history of the building we were in and what the walls might say if they could talk. Unfortunately, the performance was eating into what little free time we had in Salzburg, and we'd already missed out on a number of places we would love to have visited. As soon as desert had been served, Mary and I politely slipped out of the room (thankfully we were seated close to the door at the back), and we made our way back out into the streets of Old Town Salzburg,
In what little time we had, we criss-crossed through numerous alleys and side streets, not really knowing what we were looking at, but nevertheless trying to soak up a bit of the local flavour.
As we retraced our steps back across the Makartsteg Footbridge, the skies were beginning to clear, and I took a few more pictures of the Hohsnsalzburg Fortress and the alpine hills that surround the city.
Once back aboard the bus, we wound our way back out of the city, and much to my delight, I spotted a large sculpture of an ear to go along with the nose sculpture we'd seen earlier in the Wachau Valley. I'm not really sure what the significance of the ear is as it is at the entrance to a museum called Bible World. I didn't care either. I just joked with Mary, wondering what body part I would find next?
The bus ride back to the ship was not a particularly comfortable one. Our guide was in touch with the ship via her cellphone, and the Lif had been making slower than planned progress throughout the day. She was being told to get the driver to slow down and he began a meandering detour through country roads, which added almost an extra hour to our return commute.
As we finally boarded the ship, the sign below was there to wish us farewell, Sound of Music-style. Those of us that had gone to Salzburg for the day weren't much in the mood to smile about it.
Since I'm writing these blogs after the fact, I'm happy to say this was the only disappointing moment during our entire trip, and I apologize to anyone reading this if I sound a little bitter in recounting the day. We completely understood that lock delays were not the fault of the captain and crew of the Lif, but in hindsight I can say that the excursion to Salzburg was ill-conceived by Viking, regardless of the delay.
In perfect circumstances, we would have had five hours in Salzburg and that is barely enough to scratch the surface of a city with that much to offer. Once it was shortened to 3½, I believe the excursion should have been cancelled and people given the chance the join the Passau Tours (which according to those that went, were excellent).
We opted not to say anything to the staff about our feelings, but it seems that a lot of other people must have, as the very next day, a note of apology appeared in our room and Viking had provided a partial refund to those of us who had endured a less than perfect day in Salzburg.
We loved what we saw, wished we could have done and seen more, and who knows, maybe one day we'll get a chance to return and tick off the missing Salzburg boxes on our wish-list.